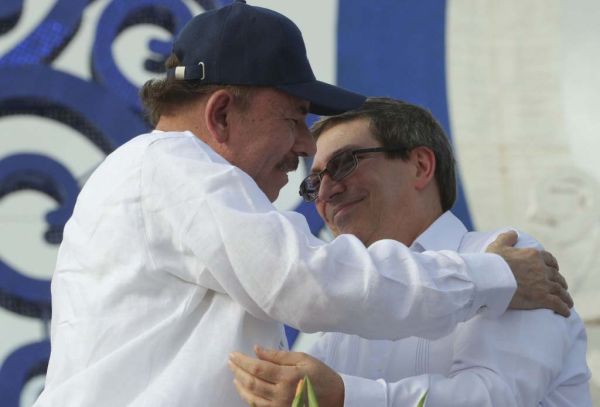 Cuba Foreign Minister Bruno Rodríguez Parrilla led the delegation that participated in the 39th anniversary of the Nicaragua Revolution commemoration
Army General Raúl Castro, first secretary of the Communist Party of Cuba, and Miguel Díaz-Canel Bermúdez, president of the Councils of State and Ministers, send messages of congratulations to Daniel Ortega and Rosario Murillo, Nicaraguan President and Vice President, respectively, on the 39th anniversary of the Sandinista Revolution
La Habana, July 19, 2018.
Dear Daniel and Rosario:
I wish to express my congratulations to you, those of the Cuban people and Communist Party, on the 39th anniversary of the triumph the Sandinista Revolution.
Over all these years, we have constructed indestructible ties of solidarity and brotherhood with Nicaragua and the FSLN. I reiterate our unwavering support and solidarity in the face of attempts to destabilize this sister nation, to overthrow the legitimately constituted government.
An embrace,
Raúl Castro Ruz.
First Secretary of the Communist Party of Cuban Central Committee
———————————————————————————————————-
La Habana, July 19, 2018.
Esteemed Daniel and Rosario:
I convey my congratulations to you and those of our people and government, on the 39th anniversary of the triumph of the Sandinista Revolution.
We reiterate our solidarity with Nicaragua in the face of interventionist actions and attempts to destabilize the nation, which have produced unfortunate loss of life and significant material damage, undermining citizen security and the economic and social gains achieved.
On such a significant date, I wish to reiterate our unbreakable friendship and support, and unqualified willingness to continue strengthening the historic ties we that unite us.
A fraternal embrace,
Miguel Díaz-Canel Bermúdez
President of the Councils of State and Ministers of the Republic of Cuba