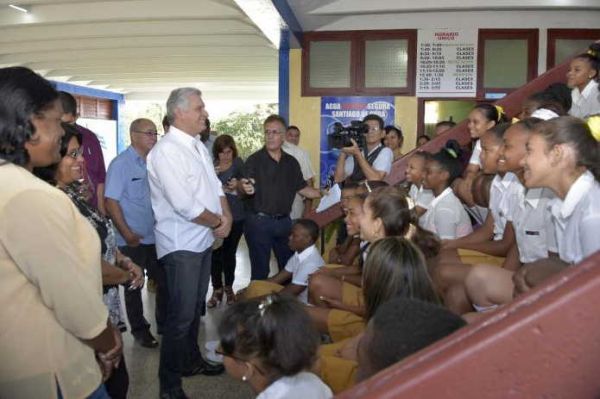 Díaz-Canel will complete an intense two-day agenda in the province, which will allow him to learn more about the reality of this eastern territory
The President of the Councils of State and Ministers, Miguel Díaz-Canel Bermúdez, began a visit to Santiago de Cuba this Wednesday, where he will tour sites of social, economic and historical interest
Accompanied by the member of the Party Central Committee and its First Secretary in Santiago de Cuba province, Lázaro Expósito, and Beatriz Johnson, a vice president of the Council of State and president of the Provincial Assembly of People's Power, the Cuban President began his tour at the Armando García Aspuru High School, located in the Chicharrones Popular Council, in the city of Santiago, as CMHW radio station reported.
Díaz-Canel will complete an intense two-day agenda in the province, which will allow him to learn more about the reality of this eastern territory, check on the progress of important works and, in particular, exchange with the people of Santiago.
This is Miguel Díaz-Canel's first visit to a province following his election as President of the Councils of State and Ministers, on April 19, during the constituent session of the National Assembly of People's Power.