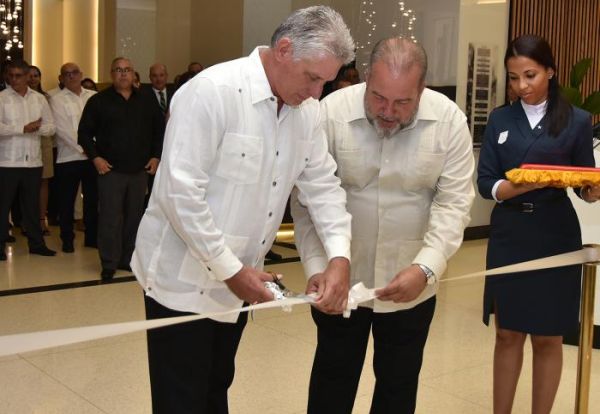 The new facility located on Paseo del Prado has 321 rooms, a gourmet restaurant, a shopping area, a central courtyard with a glass roof and air-conditioning, and a swimming pool, among other services
President Miguel Diaz-Canel Bermudez attended the
inauguration of the Grand Packard Hotel in Havana, which marks the beginning of a new phase in the sector that is committed to the high standard segment.
The facility operated by the Spanish chain Iberostar, is located on Paseo del Prado, has 321 rooms, a gourmet restaurant and a tapas bar, multi-purpose rooms, a piano bar, a shopping area, a cigar-bar, a central courtyard with a glass roof and air-conditioned, while on the fifth floor multiple services will be provided, from spa to swimming pool for 130 bathers.
According to Juventud Rebelde newspaper, Manuel Marrero, minister of Tourism, said that the Iberostar Hotel Company has been present in the country since 1993 and currently operates 27 hotels with 7,881 rooms, being from now on the Grand Packard Hotel the maximum exponent of exclusivity of this prestigious Spanish company in Cuba.
Miguel Fluxá Roselló, President of the Iberostar Group, said that the Grand Packard is of a category that could be in London, New York, Paris.
There are no better ones, but beyond the walls and the luxurious spaces, the soul of the people will give life to the service of tourism of excellence.
Marrero said that the arrival of international visitors is experiencing a recovery, which will end the year reaching a new record in arrivals, despite the strengthening of the blockade, particularly to travel, because Cuba remains the only country in the world where a U.S. citizen is prohibited by law to travel freely as a tourist.
According to Iberoestar's Twitter profile, the Spanish company, based in Palma de Mallorca, also plans to open the first Star Prestige hotel in Cuba next November in the eastern province of Holguín.
As part of Havana's development program, which needs to expand its accommodation capacity in the face of the growing arrival of international travelers, two other luxury hotels, Prado y Malecón and Gran Hotel, are currently being built by Almest Real Estate Company, and are scheduled to open in 2019 and 2020, respectively.