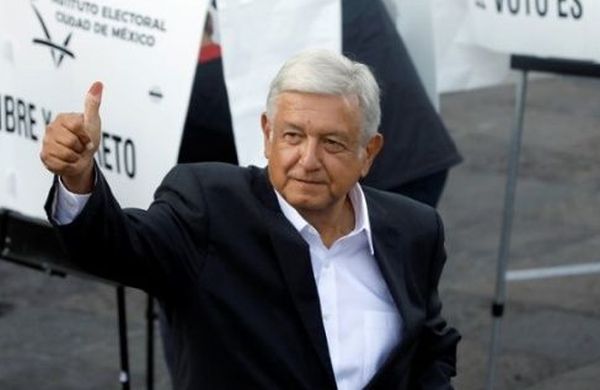 Andres Manuel Lopez Obrador won Sunday's presidential elections in Mexico, scoring a 53% landslide victory, according to a quick count by the electoral authority
This was the third time the 64-year-old left-wing politician had tried to reach the highest responsibility in Mexico. His historic win was on behalf of the National Regeneration Movement (MORENA).
In his first public appearance after preliminary results were released, the candidate who is widely known by his initials, AMLO, addressed his supporters from his campaign headquarters in Mexico City. He said eradicating corruption and impunity will be the primary mission of his government.
"I reiterate my promise to not betray the confidence millions of Mexicans have placed in me. I will govern honestly and justly; I will not fail you. I will not disappoint you and I will not betray my people," he said.
Shortly after the official preliminary results began rolling out, the right-wing candidates Ricardo Anaya, from the National Action Party (PAN), Jose Antonio Meade, from the Revolutionary Institutional Party (PRI) and the independent Jaime Rodriguez conceded defeat.
By midnight Lopez Obrador was greeted with rapturous cheers by tens of thousands of supporters at a victory rally in El Zocalo Square in Mexico City.
After the announcement, congratulatory messages started pouring in from around the world, among them one sent by Cuban president Miguel Diaz-Canel Bermudez.
Lopez Obrador will take office on December 1st.