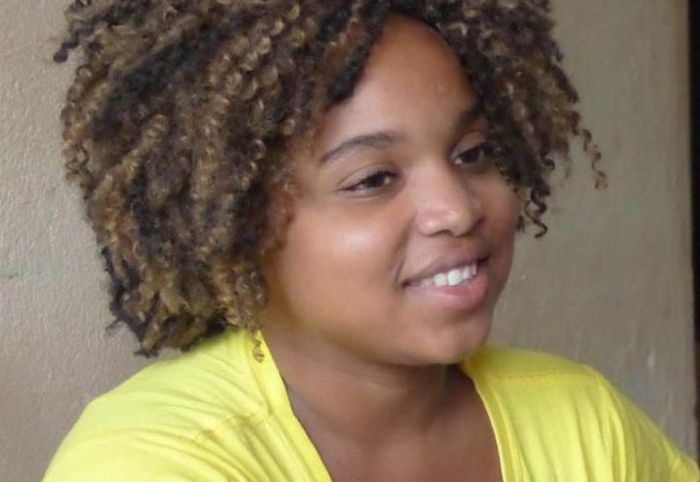 For Alegna Peralta González, being a delegate to the World Festival of Youth and Students is both expectations and responsibilities
When she saw the funeral urn passing in front to her, along the Carretera Central road, young Ángela Alegna Peralta González knew it was all true: that the ashes of Fidel Castro were inside there on his last trip to Santiago de Cuba, and that she was not the only one to feel that incomparable telluric force under her feet.
«It was something very difficult —she said—, we knew he had died, but we did not want to believe it. When the procession passed, we recorded it and we remained silent for a while, as if we did not dare to speak».
Almost a year after what she defines as «the saddest day of her life», the young twelve grade student at the Eusebio Olivera Pre-University School, thinks that for her, being a delegate to the World Festival of Youth and Students is both expectations and responsibilities.
«I think it's fair that this Festival is dedicated to the figures of Che and Fidel because of the legacy they both left to us, the new generations, and because they devoted their lives to fight against imperialism in order to have a better society», she added.
Alegna has been the president of the Federation of High School Students (FEEM, in Spanish) in her school since tenth grade, and is a member of the Young Communist League (UJC) since last year. The young student leader, who lives in the capital city of Sancti Spiritus, loves to listen to music, to dance, to hang out with friends, and to study. She prefers Chemistry over the rest of the subjects and hopes to get a degree on Food Science.
– What is Alegna taking to the Festival?
–The ideal of the revolutionary youth, the solidarity, the internationalism, a tremendous desire to show what we students do in Cuba.
– Is there any figure of our national history that inspires you, or who motivates you especially?
– Not one, but many: José Martí in the first place, Maceo, Fidel, Camilo, Che, Almeida; others who died very young like Mella, Rubén Martínez Villena or Panchito Gómez Toro, who was born here, in our province.
–Were you surprised at your election as a delegate of Cuba to Sochi or were you expecting that?
– I was surprised, there were so many of us, and I never thought they would select me.
– And who influences more on Alegna's achievements: the school or the parents?
– Both. My school teachers are great. The members of the Board of Directors work as a team; they have helped me cope with my responsibility as a leader and with my studies, and they have instilled values ​​into me. As for my parents —a primary school teacher and a gastronomy worker—, I must say that I adore them, I owe them what I am, and all my achievements are theirs.