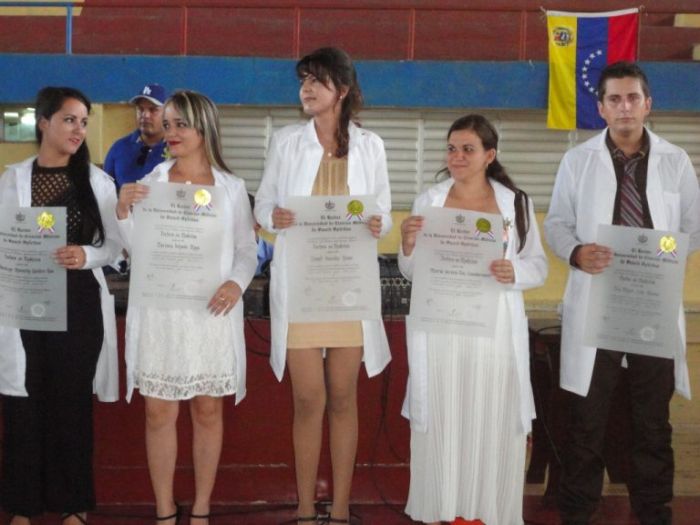 263 health graduates from Sancti Spiritus, central Cuba, honored the humanistic thought of the historical leader of the Cuban Revolution
The humanistic thought of the historical leader of the Cuban Revolution Fidel Castro was honored this Thursday by the 263 new graduates of the medicine, stomatology and health technical careers in the University of Medical Sciences of Sancti Spiritus.
According to Dr. Cira Julia Marquez, rector of the university, the new breed of professionals will devote themselves to the medical practice with a high ethical commitment and will continue to make this the most noble and human of all jobs, as Fidel once pointed out.
For their academic performance, 80 students were granted the Gold Title, while other 13 were presented with the Scientific Merit Award, a recognition conferred to those who excel in research and in the prize exams. Likewise, 76 graduates received the Dr. Mario Muñoz Monroy Vanguard Movement recognition.
Carlos Yassell Aquino Pedraza, the best of the graduates, emphasized the commitment of new professionals to serve Cuba and the world in any circumstance, and highlighted the greatness of Fidel's thinking, the main promoter of development achieved by Cuban medicine "It is our turn to continue his work", he added.
Representing the 23 foreign students who completed their studies in this central Cuban territory, Honduran Nelson Figueroa Soriano thanked Cuba for the excellence in the academic training received to practice in their respective countries as true physicians of science and conscience.
The member of the Central Committee of the Party and its first secretary in Sancti Spíritus, José Ramón Monteagudo Ruiz, and Teresita Romero Rodríguez, president of the Provincial Assembly of People's Power, attended the graduation ceremony, also dedicated to the anniversary of the creation of the University Student Federation.