A four-year system will be applied where students will work and continue, at the same time, with the university course, before graduating as teachers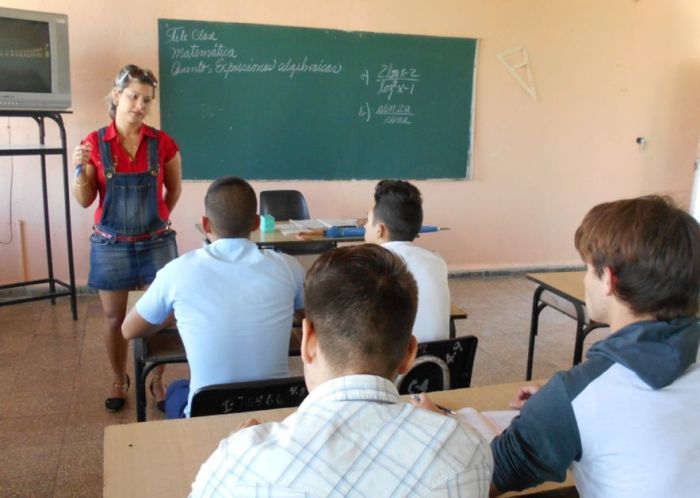 Given the need for teachers to guarantee educational coverage in the province of Sancti Spíritus, the Education Department of this central territory will open new pedagogical specialties for the next school year.
According to Edelberto Cancio, director of the branch in the province, there are very few twelve-grade students opting for university courses of this profile and today, for example, there are about 900 vacancies for teachers in the province.
Hence, he said, alternatives should be taken so that the youngsters in the pedagogical training schools – with whom the coverage in primary, special and English education of the primary school is provided – can teach in secondary level.
Cancio told ACN that, in coordination with the Ministry of Education, a group of graduates of the two pedagogical schools of the territory will be inserted in the Bachelor's degree in Secondary Education, in the Biology specialty.
He noted that the degree would open this year with 22 students who graduated from the schools of pedagogical training, who would receive a three-month preparation with biology teachers and a tutor so that, in that first year, they could already act as teachers.
A four-year system will be applied where the student would work and continue, at the same time, with his university course, before graduating as teachers of this educational level, he stated.
Cancio added that this year, those finishing ninth grade will have the possibility of taking advanced courses of mathematics, and the ones studying pedagogical specialties destined to Technical and Professional education could opt for courses of Agriculture, Construction, Transport-Mechanics, Economics and Informatics with the added opportunity of continue studying after completing the ninth grade.
He stressed that the province currently seeks and implements alternatives to guarantee the full staffing of teachers at different levels, especially in the Secondary and pre-university, in order to affect as little as possible the educational process.