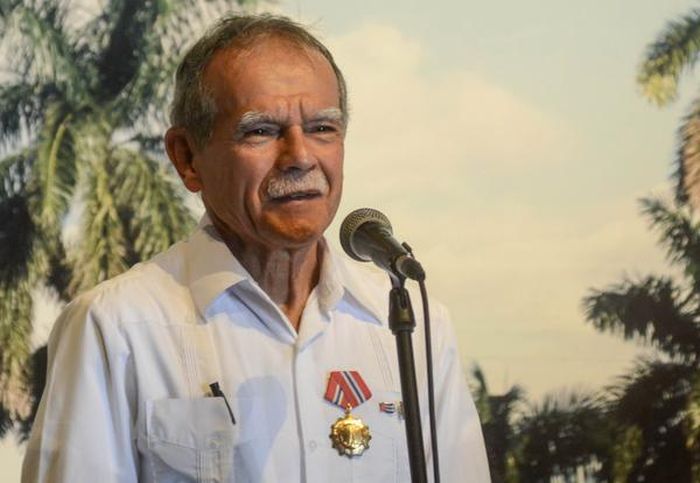 The independence activist thanked Comandante en Jefe Fidel Castro, President Raúl Castro, and the Cuban people for their support and solidarity
In recognition of his bravery and resistance for over 36 years while unjustly imprisoned in the U.S., Puerto Rican patriot Oscar López Rivera received, November 14, in the Cuban capital, the Solidarity Order awarded by the Council of State of the Republic of Cuba.
In a ceremony held at the José Martí Memorial, in Havana's Plaza de la Revolución, Mercedes López Acea, a member of the Communist Party of Cuba (PCC) Political Bureau and vice president of the Council of State, presented López Rivera with the medal.
The independence advocate, visiting the island for the first time, thanked Comandante en Jefe Fidel Castro, President Raúl Castro, and the Cuban people for their support and solidarity.
He went on to note that Cuba will continue to be an example for the world at a time when governments are promoting war and exploiting the most vulnerable.
Decorated Hero of the Republic of Cuba and President of the Cuban Institute of Friendship with the Peoples (ICAP) Fernando González Llort highlighted the Puerto Rican activist's many qualities, describing him as a "brave, modest, educated man with a great artistic sensibility," and "a concerned father, caring grandfather, and committed lover of his island and people."
There are convincing reasons to award him (López Rivera) the Solidarity Order, in fitting recognition of his struggle and his commitment maintained for almost 36 years in prison – 12 of which he spent in solitary confinement – to a single cause: struggling for his country's independence, stated González Llort.
The ICAP President went on to recall that López Rivera, with whom he spent years in prison, was arrested May 29, 1981 and accused of seditious conspiracy, a strictly political charge used against Puerto Rican independence advocates.
In the presence of José Ramón Balaguer, a member of the PCC Central Committee Secretariat, and head of its International Relations Department, as well as Gerardo Hernández Nordelo, decorated Hero of the Republic of Cuba, among others, González Llort reaffirmed the island's commitment to continue strengthening the fraternal ties which unite the two islands.
Prior to the ceremony, López Rivera paid tribute to Cuban National Hero José Martí, laying a floral wreath at the foot of the monument erected in his honor, in Havana's historic Plaza de la Revolución.
During his stay López Rivera will also visit various central and eastern provinces, where he will tour cultural and historic sites such as the Comandante en Jefe's childhood home in Birán, Holguín and the Santa Ifigenia Cemetery in Santiago de Cuba, where Fidel's ashes are interred.