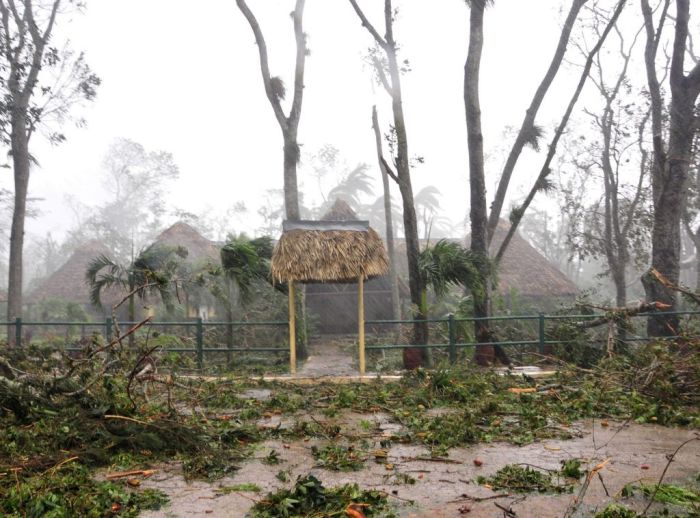 Although due to difficulties with access and communications the impact of Hurricane Irma is still unkown in several facilities, preliminary information allows experts to state that 80 percent of the natural forests under the Flora and Fauna Business Unit Sancti Spiritus Norte was damaged.
According to Sonia María Pérez, economic assistant director of that enterprise, serious damages have been already reported such as the total destruction of the Jarico Restaurant of the Alturas de Banao Protected Area, due to the flooding of a nearby river. The damages at La Sabina and El Naranjal hiking sites are yet to be determined.
Hurricane Irma's Only Benefit to Sancti Spíritus
The hurricane also damaged the roofs of several facilities dedicated to handle animals, killed over 260 of them (rabbits, cattle, sheep, pigs, among others), and destroyed around 45 hives.
"The Mini Zoo of Yaguajay was seriously hit, as well as many lemon, banana, yucca, guava, mango, sugarcane, and king grass plantations. The impact of the hurricane was also evident on flower farms, an organoponico (organic farm), and our grow house", added the executive.
Rancho Querete, Jobo Rosado, El Pelú de Mayajigua, Alturas de Banao, Arroyo Blanco and Tunas de Zaza's floristic reserve are some of the centers ruled by Flora and Fauna in the province of Sancti Spiritus. These tourist sites, which are distinguished by lush vegetation, beauty and colorful surroundings, offer a high quality product to national and foreign visitors.