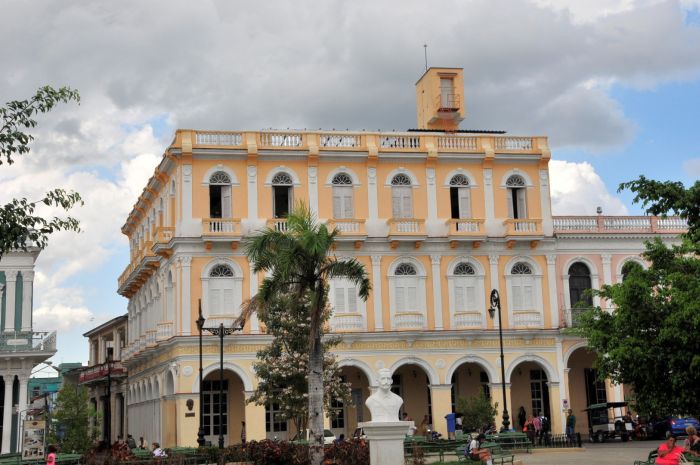 It is said that most of the people who visited Sancti Spiritus chose to stay at Perla de Cuba Hotel because it was very comfortable and elegant
In front of the Serafín Sánchez Park, there is this building that for more than eighty years hosted the Perla de Cuba hotel, the only facility of the historic center originally constructed for such use.
Before the hotel was built, the area was occupied by a single-level home, which was purchased, in 1913, by Spanish pharmacist José García Cañizares, who demolished the old house and financed the construction of the first two floors of the future hotel, which were completed in 1915.
The hotel business was very lucrative for José Gutiérrez Rodríguez, to whom García Cañizares had leased the property. So, Cañizares decided to add another floor to the building, which was constructed in 1925, at a cost of more than 20 000 pesos. The hotel extension demanded the reinforcement of columns and beams, as provision of the Municipal Commission of Public Works.
New reforms were made to the hotel in 1938, so as to expand its accommodation capacity.
The privileged position of the hotel — whose front entrance originally faced San Juan de Dios Street (today Luz y Caballero)—, its good service, the improvements made to its furniture and the maintenances to which it was submitted, made it be preferred by whatever personality came to Sancti Spiritus. Benny Moré and his band, and other great Cuban and foreign artists stayed there during their visits to the territory.
The Álbum Resumen Ilustrado de Las Villas in 1941, described the facility as a meeting place for the members of the Rotario Club and the Leones Club, also as the venue of social events of the Chamber of Commerce and a place "pour parlé" of the elite of the local society. According to Rogelio Valdivia Aquino, the face of Antonio Guiteras was embossed on one of the columns of the hotel during the constitutional period of Fulgencio Batista (1940-44), as a denounce against who agreed to his murder years earlier.
It is said that when Batista and his retinue visited Sancti Spiritus in 1950s, they chose to stay in this hotel because they considered it comfortable and elegant. It was in that decade that the elevator was incorporated.
After the triumph of the Revolution and until the 1970s —when modern tourist facilities were constructed such as Zaza, Los Laureles, and Rancho Hatuey Hotels—, the Perla de Cuba was still very popular. In the middle of the nineties, its deterioration was so evident, that it was necessary to close it down. Several years later, it was reopened as a department store.
Author's note: The historical data included in this post were taken from official documents.
Taken from The Village of the Holy Spirit