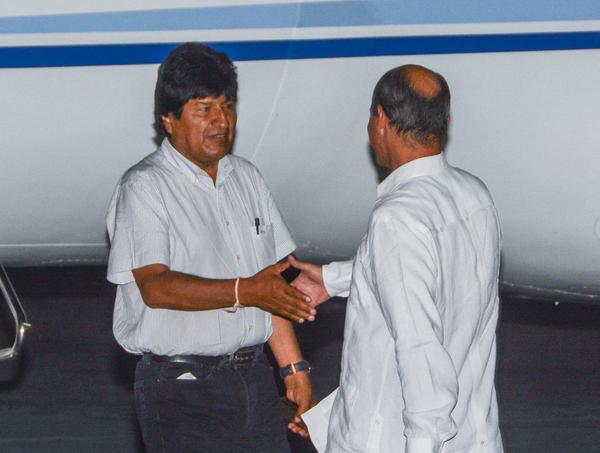 Morales arrived in Havana from Nicaragua, where he participated in the Sao Paulo Forum and the Sandinista Revolution commemoration
Bolivian President Evo Morales arrived in Cuba for a brief working visit before traveling to Argentina to attend the meeting of leaders of the Common Market of the South, MERCOSUR.
He arrived in Havana from Managua, Nicaragua, where he participated in the 23rd Meeting of the Sao Paulo Forum and the events marking the 38th anniversary of the Sandinista Revolution.
The Bolivian Foreign Ministry said that he will attend in Mendoza, Argentina, the 50th meeting of MERCOSUR Council and the Summit of Presidents and Associated Members.
Morales was twice in Cuba this year – in March and April – to take care of an ailment in the vocal cords, from which a small node was removed.
The 57-year-old Bolivian president has been ruling since 2006 with a deeply social work and in favor of the indigenous majorities of his nation. He told ACN last March that confidence and good relations with the social movements of his country have led to social and political stability and economic growth which, according to him, was the largest last year in Latin America
and the Caribbean.