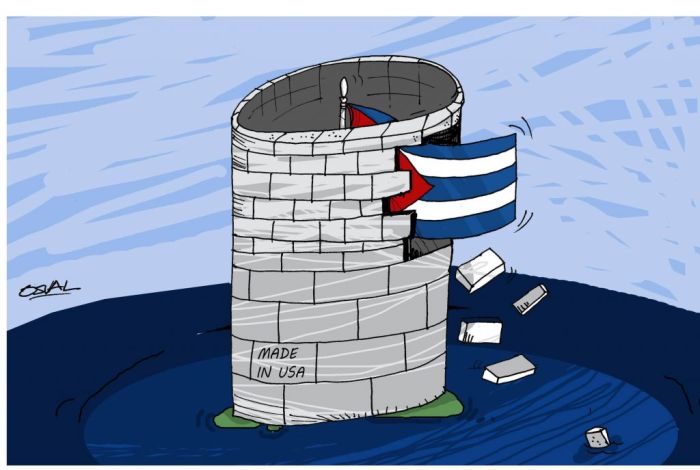 For the 26th time, the international community, in the United Nations General Assembly, will consider Cuba's Resolution 71/5: The necessity of ending the economic, commercial, financial blockade imposed by the United States on Cuba.
Despite the cruel and genocidal policy implemented by 11 U.S. administration, the Cuban people have not only resisted, but remained committed to development, and with its government is constructing a future, participating in the updating of the country's social and economic model.
A Caricature Blockade (+illutrations)
Moreover, the archaic and isolated manner in the which the world's most powerful country has acted has not prevented expressions of solidarity with a small nation that shares with the world's poor what it has, not what is leftover. Cuba's prestige grows worldwide as it faces such a perverse policy.
Today the international community will again express its demand for an end to a policy that has caused has caused damages, over almost six decades, that amount to some 822,280,000,000 dollars, taking into account the depreciation of the USD compared to the price of gold on the international market. At current prices, the blockade has caused quantifiable damages of more than 130,178,600,000 dollars. Between April 2016 and March 2017, losses suffered by Cuba were on the order of 4,305,400,000 dollars.
It has long been time for the United States to abide by the 25 resolutions approved by the international community in the United Nations General Assembly, whose member states have requested an end to this absurd policy, and the unilateral, unconditional lifting of the blockade.
Despite growing support for this demand, the current U.S. President has said he will oppose the calls to lift the blockade within the United Nations and other international forums, in an open challenge to the overwhelming position taken by the international community, and to majority public opinion among many sectors of society within the United States.
Nothing, Donald Trump is incapable of hearing the world. Today there will be more proof that there is no worse deafness than that of one who does not want to hear.