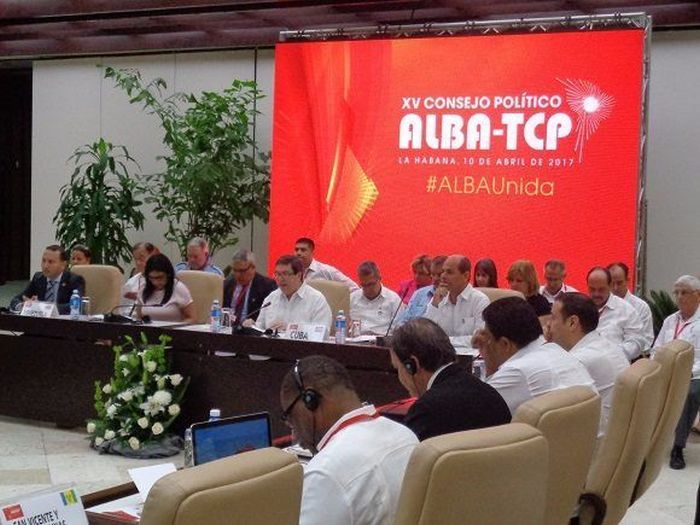 Cuban Foreign Minister Bruno Rodriguez called for unity and solidarity in the face of the rapid development of recent events in the region and threats to peace in Latin America and the Caribbean.
At the inauguration of the XV Political Council of the Bolivarian Alliance for the Peoples of Our America-Treaty of Peoples' Trade (ALBA-TCP), which began in the Cubanacan protocol hall of this capital, Rodriguez stressed the urgency of addressing what is happening in the area, particularly the recent bullying actions against Venezuela.
Declaration of the 15th Meeting of the ALBA-TCP Political Council
The meeting will be attended by foreign ministers and heads of delegations from the countries that are members of the mechanism, who will ratify the final declaration of the XIV ALBA-TCP Extraordinary Summit in Caracas, Venezuela, in March, and the precepts of the Proclamation Of Latin America
and the Caribbean as a Zone of Peace, adopted by the Summit of Latin American and Caribbean States (CELAC) in January 2014.
The Cuban diplomat said that the XIV Summit of Heads of State and Government of the block left a statement, which he described as a powerful guide for action for Our America in order to face the dangers looming over the entire region.
He said that the document approved in Caracas is key to jointly face the imperial agenda for the region, and the onslaught against leftist and progressive governments.
He stressed that the defense of Venezuela and its Revolution is not the exclusive problem of that nation, but "a cause that summons all those who fight for the true independence of Latin America and the Caribbean."
Rodríguez referred to Venezuela being harassed by the Organization of American States (OAS), an institution that he described as servile and pro-imperialist, while criticizing it for its attacks on progressive South American countries.
The Cuban Foreign Minister highlighted the achievements in health and education promoted by ALBA-TCP in the region.
Likewise, he said that this meeting will support the Ecuadorian people and their Citizen Revolution, winners in the electoral contest last week.
Also, this meeting will support the Sandinista revolution and defend the legitimate interests of the Caribbean countries, he said.