On occasion of the sixth anniversary of the plane crash that took place in Sancti Spiritus, Escambray reproduces an article published one year after the accident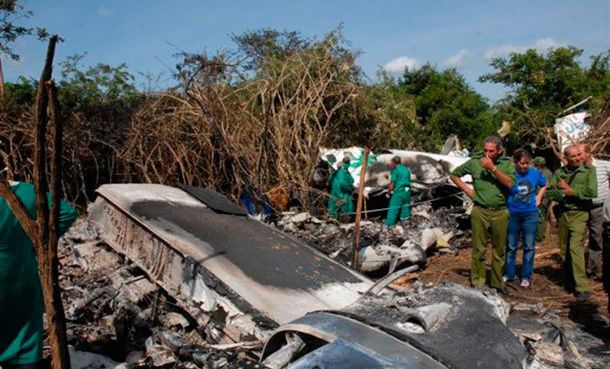 The Night Mayabuna Cried Out
One year after the air crash that took place in the southern territory of Sancti Spíritus, Escambray refers again to the dramatic story of the Aerocaribbean S.A. 883 flight.
When that Thursday evening of November 4th José Martín was setting his horse ready to spend the night in his farm in Vanguardia, a location found south to the city of Sancti Spiritus, only 57 minutes had passed since the 61 passEngers and seven crew members of the Aerocaribbean S.A. flight had fasten their seat belts in Santiago de Cuba's Antonio Maceo International Airport.
"I heard a huge and strong noise" -said Martín- "and when I looked up into the sky I could see nothing because it was cloudy, but then I saw the plane, it was flat, it looked as it was going to fall right here; then it began to tumble and to come down fast, it approached the ground and exploded like a bomb. I ran out and climbed on top of a tank and saw how everything was set on fire. I knew no one had survived".
Sancti Spiritus's Vanguardia, Paredes, Mayábuna and Guasimal locations…People's versions mixed up, sometimes they are contradictory, sometimes they converge. Like the marabu bushes these people had to cut down with their machetes in the middle of a awful darkness, in order to see with their own eyes what Jose Martín knew right from the moment he heard the blast.
ARRIVING WAS AN ODYSSEY
In one turn of the road, the guide suddenly stopped and drew the route to be followed on the ground. His finger delineated the map of the region to the disoriented rescuers who desperately tried to reach the plane on fire as soon as possible. After analyzing his improvised map, the guide came to a conclusion and said it out without hesitation:
– We better fly to Vanguardia -he said- because we will never reach the plane on foot.
The Aerocaribbean ATR-72-212 airliner traveling from Santiago de Cuba to Havana fell on its belly deep into thick marabu bushes abundant in this territory, a cattle-raising location in the vicinity of local communities of Vanguardia and Mayábuna, near Zaza dam.
Nearby residents and rescue groups coming from Sancti Spiritus, along with members of the Revolutionary Armed Forces (FAR), the Ministry of Interior (MININT) and the main local authorities, tried to reach the difficult and fortunately uninhabited place.
EVERYTHING TURNED WHITE
"People wanted to help" -said Miguel Acebo Cortiñas, who at the moment was the first secretary of the Cuban Communist Party in Sancti Spiritus- "We were guided first by a woman and then by a man on horseback who led us across narrow paths under the bushes just to the place where the plane had fallen down" he added.
"Everybody wanted to make a contribution. I remembered people coming from Paredes on foot and one of them asking me about what they should do, no matter what. People were really brave", concluded Cortiñas.
"We wanted to help out, but the plane exploded, it was a ball of fire that could be seen far from the distance and there was nothing we could do", explained local resident Jorge Luis Rosendo.
Lisvany Pérez said he had never seen such a fire, "The flames were yellow at the beginning, but later on everything turned white, resembling the day light" he added.
Hensy David Portal is not ashamed of his fears: "A strong noise got me frighten, then I came out of my house and I saw the plane flying over the houses' roofs. Then it began to tumble, it dropped something like a wing and finally fell on the ground. We immediately left for the place on horseback, but when we arrived everything was covered by the flames and the smell was unbearable. Shortly after authorities got there and also the firemen, but no one could be rescued alive", he recounted.
For Dr. Leonel Albiza the fact of not being able to save at least one life turned into his greatest frustration as physician.
A PLANE IS FALLING DOWN
Eneida Sánchez Borroto, the woman in charge of the local public telephone in Vanguardia is convinced that that November 4th 's was the most dramatic telephone call she had made ever: "I dialed 105 and I informed in a crazy voice: 'A plane is falling down', but right in that moment I felt and explosion and I remember I cried out: 'Sorry, the plane is not falling down, I already fell'. Then someone immediately called me back and only then I could explain better".
But Eneida was not the only person who called. So did a local teacher, a young man via his cell phone and several other persons who saw the plane fell down from the distance.
Then, there was a burst of firemen, rescuers, ambulances, cars, people on horseback, on foot, some of them even barefoot, all trying to walk through the thorny bushes which left marks on almost everyone's skin. Merelda Borroto, one of the women who got very close to the fire, showed hers as evidence of a night very difficult to forget.
Maybe the most praiseworthy task was that of Mariano Carrera, the bulldozer driver who cleared the almost two-kilometer road in just a few hours, so that the vehicles could reach the exact accident location by midnight.
It was the same road used the next day, to transport the remains of the 68 persons who were traveling onboard the Aerocaribbean S.A. ATR-72-212 aircraft that evening in which Vanguardia, Mayábuna and the rest of the southern region of Sancti Spiritus, turned into an unparalleled inferno.
Published in en.escambray.cu on November 11th, 2011