Yosbany Veitía (52 kg) beat 3-0 Moroccan Achraf Kharroubi in their first fight in Rio de Janeiro Olympic Games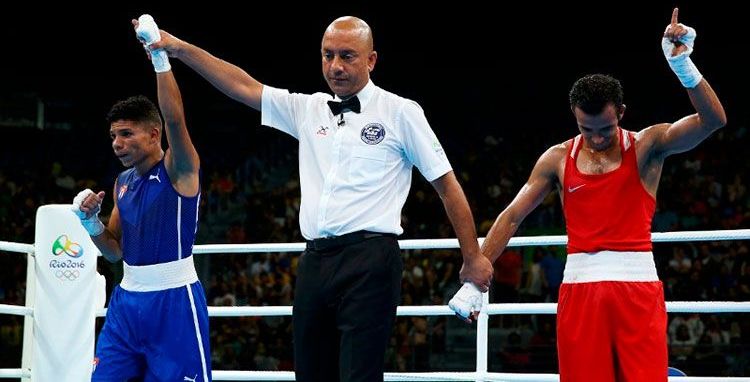 Yosbany Veitía (52 kg) will face in quarterfinals Chinese Jianguan Hu in search of the bronze medal in the Olympic Games, being held in Rio de Janeiro.
Veitía, Doha 2015 and Almaty 2013 world silver and bronze medalist respectively, beat 3-0 in the round of 16 Moroccan Achraf Kharroubi.
Cuban boxers have already won in Rio 2016 three bronze medals through Erislandy Savon (91 kilos), Lazaro Alvarez (60) and Joahnys Argilagos (49).
Cuba has also assured a silver medal with Julio Cesar la Cruz (81), who will face tomorrow Kazakh Adilbek Niyasymbetov in the final.
On the other hand, Cuban sprinter Roberto Skyers will be in the semifinal stage of the men's 200 meters, in a very tough heat which includes Jamaican Usain Bolt and Canadian Andre De Grasse, men's 100m Rio 2016 gold and bronze medalists respectively,
and American Ameer Webb, among other major runners.
Leonel Suárez, twice bronze medalist in Olympic Games, will debut today in the decathlon; while Roberto Janet will try to advance to the finals in the men's hammer throw.
There will also be Cuban presence in the women's 800 meters through Sahily Diago and Rose Mary Almanza; and in canoeing with the duo of Jorge Antonio Garcia and Reinier Torres, who will compete in the men's K2 1000 meters.