Dr. Paulyn Jean B. Rosell-Ubial, secretary of Health of the Philippines, praised on Wednesday in Havana the Cuban health system and expressed her interest in holding exchanges in this field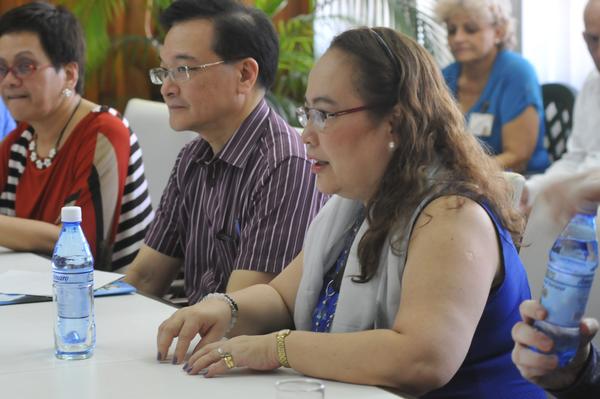 After touring the Hermanos Ameijeiras Surgical Hospital, the executive, who heads a delegation of a dozen experts of that entity and of the World Health Organization, told reporters about her intention to know more about the universal system Cuba has and the access it has been able to develop for the entire population.
While answering questions by ACN on Cuban medical cooperation, present since 1960 in more than one hundred nations with about 500 thousand workers, Rosell-Ubial described it as very beneficial, not only for the countries where Cuba has sent its professionals, but also for Cuba itself, since "it has allowed the nation to develop an even stronger health system," she stressed.
The top official expressed her hope that the Philippines can benefit from Cuban medical cooperation, from studying the universal system implemented on the island and the access to services in general because "our dream in my country is precisely to achieve a universal health system, which we do not currently have, "she said.
On Wednesday the delegation of the Southeast Asian nation held a meeting with Dr. Roberto Morales, head of the Ministry of Public Health, and with other officials of that ministry, with whom she discussed issues of bilateral interest.
She also visited the 19 de Abril polyclinic in Havana, where she and the members of her delegation received an explanation on the Family Doctor and Nurse Program, an initiative by the historic leader of the Cuban Revolution, Fidel Castro, since January 1984, which in its more than three decades of existence has helped to raise health indicators in Cuba and in other countries of the world.
During her stay in the Caribbean nation, which will end on Friday, the Philippine delegation will also visit the Latin American Medical School, where it will know more about training programs and will hold a meeting with students, in addition to the Central Unit of Medical Cooperation, among other institutions.