As part of efforts to prevent vaccine preventable, diseases and maintain polio eradication, three rounds of free polio vaccination inhas been already conducted this year with support from UNICEF and WHO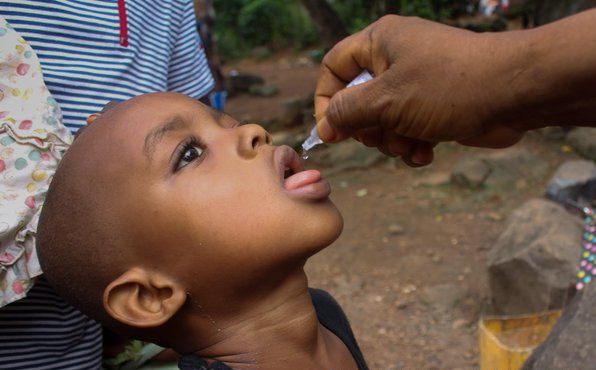 Programme Manager of the Expanded Programme on Immunisation in the Ministry of Health and Sanitation revealed that over 1.5million children between 0 and 59 months would be targeted for free Oral Polio Vaccine (OPV).
Dr. Dennis Marke told a presser at the conference hall of the ministry that the fourth round of National Anti-Polio campaign would run from October 28 to 31, 2016 countrywide.
As part of efforts to prevent vaccine preventable, diseases and maintain polio eradication, the health ministry with support from the United Nations Children Fund (UNICEF) and World Health Organisation (WHO) conducted three rounds of free polio vaccination in February, April and September this year.
According to Dr. Marke, the aim of the campaign was to ensure the reduction of morbidity and mortality of various life-saving interventions, adding that they were hoping to reach 95 percent of children under five across the country during the fourth round.
"Our focus is to reach as many children as possible with OPV and provide another opportunity for reaching missed children, as an effort aimed at complementing the routine immunisation," he said.
He explained that there would be various teams, comprising three health workers, who would visit around 30 to 40 households on a daily basis to administer the OPV.
He continued further that National Supervisors as well as Team Supervisors at district levels would ensure that those in the various teams do their work effectively and efficiently.
Dr. Marke also stated that during the course of the campaign, defaulter tracing would be carried out with routine vaccines administered to all children aged 0-23 months who have missed out on any other vaccines.
Also, UNICEF Specialist on Expanded Programme on Immunisation, Victor Sule, revealed that the last case of polio in Sierra Leone was reported in 2010 and that they hope to maintain such trend.
He said to ensure that the fourth round polio campaign was successful, they have procured 1.6million doses, costing US$250,000, adding that the essence of the free polio vaccination was to get rid of it.
Taken from http://allafrica.com