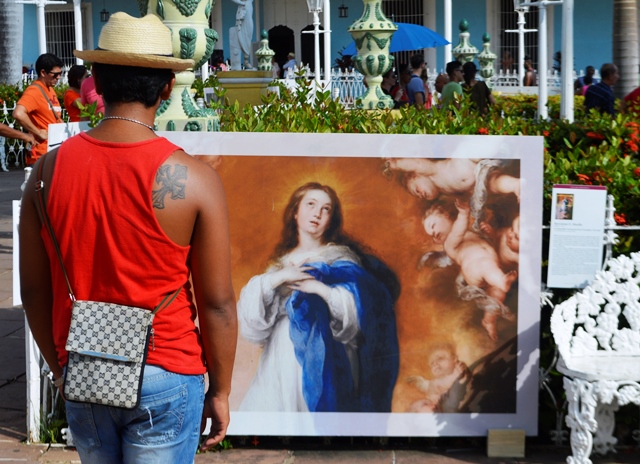 Over twenty paintings from renowned artists such as Bartolomé Bermejo, Rafael, Tintoretto, Diego Velázquez and Pedro Pablo Rubens are being exhibited in Trinidad 
The masterpieces, which make up one of the major collections of the Museo del Prado, arrived in the ancient Cuban village as part of the itinerant exhibition El Museo del Prado en Cuba (The Prado Museum in Cuba), after passing through the city of Matanzas. The large-scale reproductions displayed around the Plaza Mayor allow local residents and visitors to appreciate faithful copies of the works produced between the fourteenth and eighteenth centuries.
Guillermo Corral, cultural counselor of the Spanish Embassy in Cuba, told Escambray that in the case of Trinidad, the exhibition is considered a reunion with the past.
"These works of art were treasured by the great Spanish monarchs who founded this territory. That's why they have an added character: the return to the beginning of the history of this place", he said.
According to Duznel Zerquera Amador, director of the Office of the Curator of the City and El Valle de los Ingenios (The Valley of the Sugar Mills), this initiative is an irrefutable evidence of the links of Trinidad with the Iberian nation in terms of dissemination of artistic heritage.
Zerquera Amador pointed out that the exhibit will be on display in Trinidad for a month, when it will be moved to the cities of Camaguey and Santiago de Cuba.