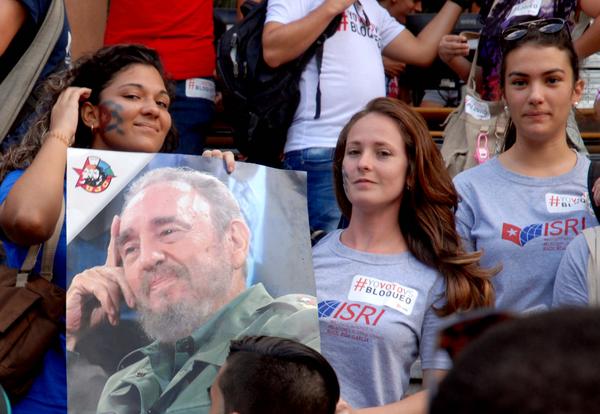 Cuban youth and Cuban civil society, which are both target of the economic, commercial and financial siege imposed by the United States to Cuba for more than five decades, held this Monday the "Hornet's nest against the blockade" day, to reaffirm their rejection to the unjust policy.
The University of Havana (UH) was the major venue of the activities, which were also carried out throughout the country, and were supported by friends of Cuba from all over the world, as well. According to www.cubavsbloqueo.cu, the program of activities included a meeting with Josefina Vidal Ferreiro, director general of the Department of the United States at the Ministry of Foreign Affairs
It also included exchanges with former sports stars and medal winners of the Rio 2016 Olympic and Paralympic Games; the participation of several renowned painters who made a collective mural, and the performance of dozens of people in a flashmob dance.
In addition, the winners of the Selfies Contest #YoVotoVsBloqueo, promoted by social networks @cubavsbloqueo were announced. Those interested in participating had to send their self-portraits with the #YoVotoVsBloqueo label, or send the image to e-mail cubavsbloqueo@gmail.com, mentioning @ cubavsbloqueo.
Also, the day was an opportunity for launching three applications for mobile devices developed by the University of Information Science (UCI) related to the subject, which can be downloaded free on this site.
Taken from Granma and translated by Escambray