Bruno Rodriguez, Cuban minister of Foreign Affairs, received on Wednesday the Secretary of Transportation of the United States, Anthony Foxx, at the headquarters of the Foreign Ministry in Havana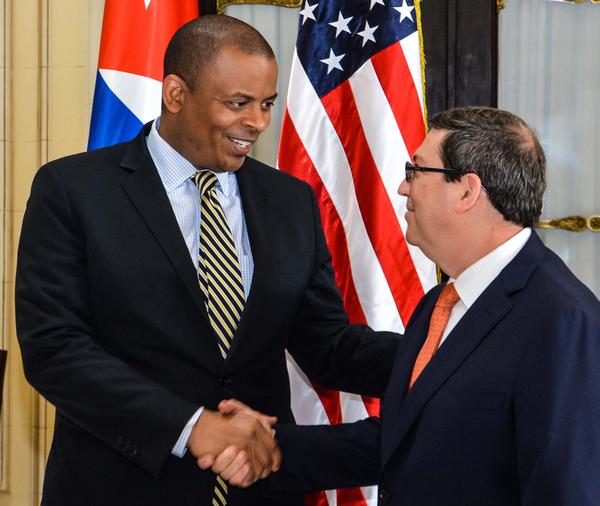 The meeting took place just hours after the arrival of the official, who traveled among the 150 passengers aboard the Airbus A-320 of the U.S. airline JetBlue, which resumed regular flights between the two countries, interrupted by more than half a century.
This August 31, around 11 am, the aircraft from Fort Lauderdale, Florida, landed at the Abel Santa Maria airport of Santa Clara. These flights will have a frequency of three times a week until October 29, when they will begin to be daily.
The U.S. official was the first to descend the steps of the plane, in
which also traveled important JetBlue executives as well as a large
delegation of international press.
In Havana, he will also meet with Cuban Transport Minister Adel
Yzquierdo.
Foxx traveled to Cuba in February 2016 to attend the signing ceremony of the Memorandum of Understanding for the reestablishment of regular flights between Cuba and the United States.
Today, with the start of operations by JetBlue the implementation of this legal instrument began.
Other authorized airlines are Frontier Airlines, Southwest Airlines and Sun Country Airlines lines, which will begin operations in the winter season, but none include the Havana as their destination because they still need permission from U.S. authorities.
Despite the activation of regular flights between the two countries, U.S. citizens are prohibited from traveling to Cuba as tourists, only under 12 travel categories approved by the Office of Foreign Assets Control.