Cuban First Vice-President Miguel Diaz Canel met Tuesday with Natsuo Yamaguchi, president of Japan's Komeito Party, which is part of the political coalition of the current Japanese government led by Premier Shinzo Abe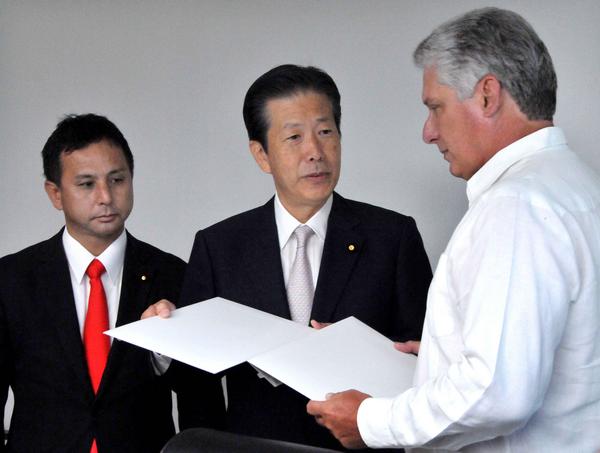 Natsuo Yamaguchi and his delegation are visiting the island at the invitation of the Cuban Communist Party.
During the talks, both sides ratified their interest in deepening relations between Cuba and Japan and in further strengthening political, economic and cooperation bonds.
The visiting Japanese official conveyed messages from Japanese Premier Shinzo Abe to Cuban Revolution leader Fidel Castro and to President Raul Castro.
The Japanese visitors toured scientific and economic centers and also met with foreign minister Bruno Rodriguez, with government vice-president Ricardo Cabrisas and with Cuban Communist Party Central Committee officials.
During his stay here Natsuo Yamaguchi was accompanied by Japanese ambassador to Havana Masaru Watanabe and by other officials from the Komeito parties, who made up his delegation.