Prime Minister of the Independent State of Papua New Guinea, Peter Charles Paire O'Neill, arrived in Cuba on Monday, November 21, on an official visit to the country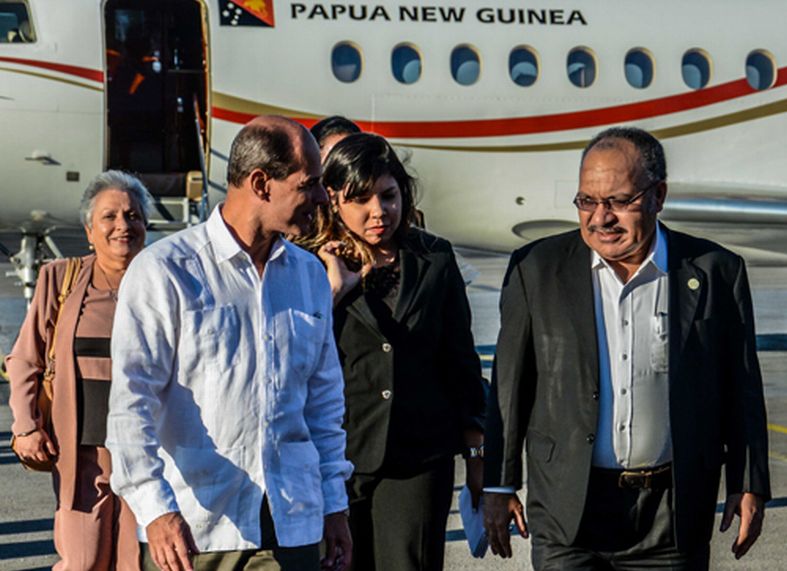 He was welcomed at José Martí International Airport's Terminal 1 by Cuban Deputy Foreign Minister Rogelio Sierra Díaz.
During his stay, which will continue through Wednesday November 23, the leader will hold official talks with Army General Raúl Castro Ruz, President of Cuba's Councils of State and Ministers.
The Prime Minister will also visit the Genetic Engineering and Biotechnology Research Center (CIGB) and honor Cuba's national hero at the José Martí Memorial in Havana's Plaza de la Revolución.
Peter O'Neill arrived in Havana from Lima, Peru, where he attended the XXIV Summit of Leaders of the Asia-Pacific Economic Cooperation Forum, an organization including 21 nations working on economic integration.
Papua New Guinea has a population of approximately seven million inhabitants, mostly rural. It is known for its cultural diversity, and is one of the most heterogeneous countries in the world, with 836 different languages spoken.
Among its principal economic activities are agriculture and the export of oil, gold, and copper.
Coffee, cacao, coconut, hardwoods, and palm oil also contribute to the nation's economy.