Army General Raul Castro, president of the Councils of State and Ministers, received Nursultan Abishevich Nazarbayev, president of the Republic of Kazakhstan, who is on an official visit to Cuba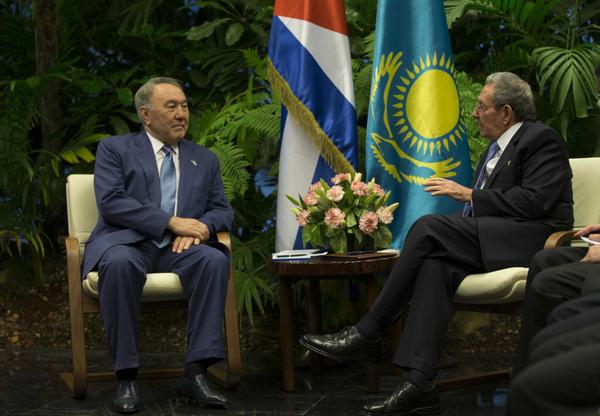 During the cordial meeting, held on Saturday afternoon, the two leaders spoke about the traditional ties of friendship existing between the two peoples and confirmed the willingness to strengthen bilateral relations and cooperation. In addition, they spoke about various issues on the international agenda.
Accompanying the distinguished visitor were Erlan Idrissov, foreign
minister; Kanat Bozumbayev, minister of energy; Konstantin Zhigalov, ambassador of Kazakhstan; Akhmetzhan Yessimov, president of the National Company "Astana EXPO-2017" and Nurlan Onzhanov, assistant to the President for International Relations.
Cuba was also represented at the meeting by Rodrigo Malmierca, minister of Foreign Trade and Investment; Alfredo Lopez, minister of Energy and Mines; and Marcelino Medina and Rogelio Sierra, acting minister and deputy foreign minister, respectively.