Russia's ambassador to Turkey was fatally shot Monday while delivering a speech at an art exhibition in the capital city Ankara, according to Russia's RIA agency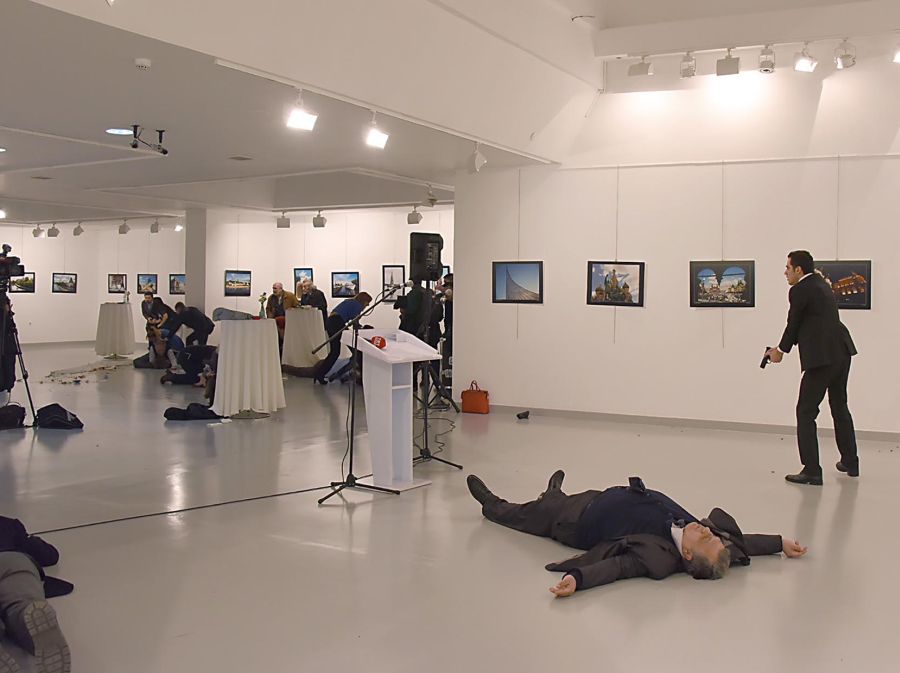 A gruesome video of the attacker shooting Ambassador Andrei Karlov shows the gunman shouting, "Don't forget Syria, don't forget Aleppo," repeatedly in Turkish. And according to Turkey's state-run Andalou Agency, security forces "neutralized" the gunman in a shootout after the attack.
He also shouted in Turkish, "Until our state is safe you will never be safe," and "Who ever is behind this oppression, one by one you will have to pay."
The shooter was a member of the Turkish police working with a unit in Ankara, Mayor Melih Gokcek confirmed. Two sources told Reuters that the officer was off duty at the time of the shooting. According to media reports, the gunman had entered the building saying he was a police officer.
Russian Foreign Ministry spokeswoman Maria Zakharova confirmed Karlov's death, adding that Moscow sees the fatal shooting as a "terrorist attack."
Embassy sources told Hurriyet the attack was suspected to have been carried out by Islamic extremists. It comes a few days after Syrian forces, with the help of Russian forces, retook the city of Aleppo from anti-government groups.
The shooting comes just a day before the foreign and defense ministers of Russia, Iran and Turkey will hold talks in Moscow aimed at giving fresh impetus for a solution in Aleppo. Senior parliamentarian Leonid Slutsky said the talks would go forward despite the fatal shooting, Interfax news agency reported.
Ankara Mayor Melih Gokcek said that the attack was aimed at spoiling Turkey's relations with Moscow. Russia's RIA agency reported that security detail around the Russian embassy in Turkey was stepped up after the attack.
The shooting comes days after a car bomb killed 13 soldiers and wounded 56 when it ripped through a bus carrying military personnel in the Turkish city of Kayseri on Saturday.
The Turkish lira and Russian ruble fell to session lows against the dollar on Monday after the shooting.
Taken from http://www.telesurtv.net/english