Cuban leader Fidel Castro and Venezuela President Nicolas Maduro paid a surprise visit this Thursday to Bolivian Evo Morales, in the hotel he was staying at, said Bolivian state agency ABI.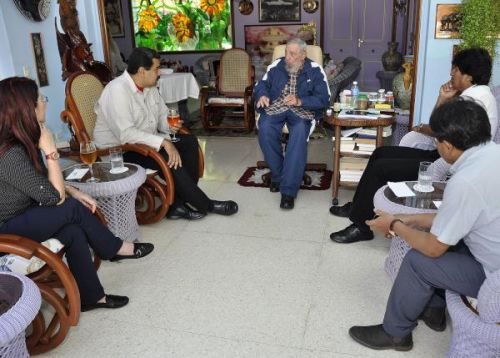 Fidel and Maduro arrived at La Laguna Hotel, where the Bolivian leader stayed after his arrival in Cuba to celebrate the 89th birthday anniversary of the Cuban Revolution historic leader.
Morales had planned to visit Fidel at home, so he was surprised when the Cuban leader came to the hotel.
«I come to share, to accompany our elder brother, Fidel Castro, on his birthday. I admire and love him very much, I learned a lot from him», Morales had said upon arrival in Havana.
His former visit to Cuba dates back to December, 2014, when he atended ALBA 13th Summit in Havana, and met with Cuba President Raul Castro.
Source: Juventud Rebelde. Translated by Escambray