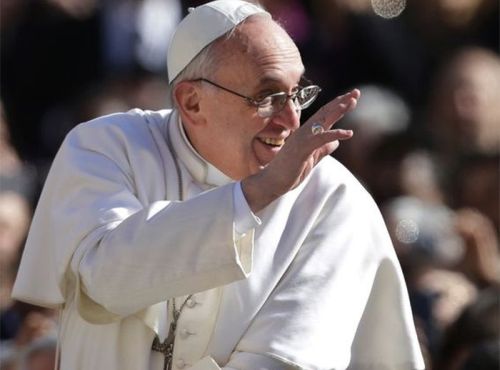 This Saturday afternoon, after being officially welcomed at Havana's Jose Marti Airport by Cuba's highest governmental authorities, Pope Francis, the Supreme Pontiff of the Catholic Church and Head of State of Vatican City, will start a pastoral visit that has raised great expectation between both believers and nonbelievers, and that will take him to three cities of the island: La Habana, Holguin, and Santiago de Cuba.
The masses he will say; his presence in Loma de la Cruz, in the capital city of Holguin; the salutation to the crowd; the meetings he will hold with representatives of the State and the Church, among other public and private activities, are part of the tight agenda of the Pope in our country, which will be concluded September 22 with the farewell ceremony that will take place at Santiago de Cuba's Antonio Maceo Airport, according to the official program released by the Ministry of Foreign Relations.
The visit of the Pope is a significant event, not only because he's the third Supreme Pontiff that visits the island in less than two decade time, but also because Cuba is now, after the U.S.A. and Brasil, one of the three countries in this part of the world that has been visited by the last three Bishops of Rome, said a message from the Cuban Catholic Church.
Although Sancti Spiritus is not included in the itinerary of the visit, some 1 000 parishioners of this province will attend two of the scheduled masses. Those who belong to the Dioceses of Santa Clara and Cienfuegos (Yaguajay, Cabaiguán, Fomento, La Sierpe, Taguasco, Sancti Spíritus, and Trinidad) will go to the Sunday mass in La Habana, while Catholics from the local municipality of Jatibonico, under the jurisdiction of the Diocese of Ciego de Avila, will attend the mass in Holguin, next Monday.
The visit of Pope Francis to the Caribbean island takes place during the celebration of 80 years of uninterrupted relations between Cuba and the Holy See, and in times of particular relevance to the island, after the re-establishment of diplomatic relations with the United States, a large and complex process supported by Jorge Mario Bergoglio himself.