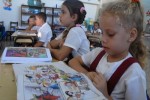 Cuba is recognized worldwide for its high rates of implementation of the objectives of Education for Everyone, UNESCO stated today.
Such a position was expressed by the director of the Regional Office for Culture in Latin America and the Caribbean at the U.N. Education, Science and Culture Organization (UNESCO), Herman van Hooff, referring to those objectives.
They include care and education of early childhood, and universal primary education.
Also on the list are obtaining basic skills through progress in education, adult literacy, gender's parity and equality, and quality of education.
Education for Everyone is an initiative guided by UNESCO with a commitment to satisfying everyone's learning needs.
The program contains a series of objectives reflected in the 11th UNESCO report entitled "Teaching and Learning: Achieving quality for everyone 2013-2014," as revealed in Havana.