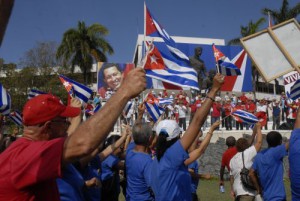 When there are still several days away from the end of April, over 120 000 people ready in Sancti Spiritus to attend May Day celebrations in the eight municipalities of the province.
During a press conference with local media, Orlando Abreu, representative of the  Workers' Trade Union (CTC) in Sancti Spiritus, referred to the program of activities scheduled to pay homage to martyrs and relevant historic events, as well as the preparation of workplaces for the occasion.
Abreu highlighted the encounter to take place next April 25 between former union leaders and workers from different sectors. He also mentioned that this territory will host the 1st of May Journalism Prize, which is sponsored by the CTC every year.
According to the union source, May Day celebrations will be held in advanced in several local communities and countryside towns.
"The demand for justice for Ramon, Antonio, and Gerardo, the commemoration of the 75th anniversary of the CTC, and the Cuban Revolution's 55th, as well as the 40 death anniversary of Lazaro Peña, are some of the motivations for this year's parades", he concluded.