Army General Raul Castro, president of the Councils of State and Ministers, met on Tuesday afternoon with Denis Sassou Nguesso, president of the Republic of Congo, who is on an official visit to Cuba.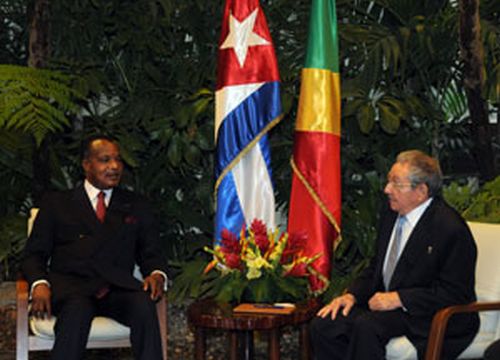 During the meeting, the two heads of state spoke about the development of the fraternal bilateral bonds -marking their 50th anniversary this year-, and ratified their willingness to continue expanding and strengthening them.
Likewise, they tackled topics on the international agenda, particularly the challenge the Ebola epidemics represents for African nations.
Accompanying the distinguished visitor were Basile Ikouebe, Monster of Foreign Affairs and Cooperation, as well as Pascal Onguemby, ambassador of Congo to Havana.
Also representing Cuba at the meeting were Salvador Valdes, vice-president of the Council of State; Bruno Rodriguez, minister of Foreign Affairs; and Manuel M. Serrano, Cuban ambassador to that African nation.