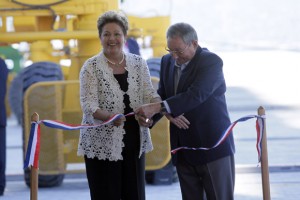 Brazilian President Dilma Rousseff, and Cuba's Raul Castro, inaugurated this Monday the first stage of the container terminal at Mariel Mariel Special Development Zone (ZEDM), 45 kilometers west from Havana.
Raúl Castro Confident in Socialist Future
Brazil Fosters Commercial, Economic Alliance with Cuba
Bruno Rodríguez Opens CELAC FMs Meeting in Havana
Leaders Attending 2nd CELAC Summit in Havana, Cuba


During the ceremony, attended by the heads of government from Bolivia, Guyana, Haiti, Jamaica and Venezuela, and Brazilian and Cuban entrepreneurs, Rousseff expressed her great joy at visiting the island and highlighted the deep ties between the two nations.
The ZEDM is the main attraction that Cuba provides for foreign investment and at the same time the current bet of the island for promoting its economic advancement, replacing imports, increasing exports, creating jobs and gaining access to modern technologies.
With 465.4 square kilometers, the first free trade industrial region in Cuba is designed to encourage foreign capital investment, technological innovation and industrial concentration for economic and social development.