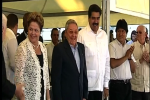 The presidents of Cuba and Brazil, Raul Castro and Dilma Rousseff, respectively, along with other leaders of the region, attended today the inauguration of the first 700 meters of the port area special Mariel Development (ZEDM).
The first installations of ZEDM, whose flags are the port and container terminal, concluded after an investment process that included Brazilian credits and Cuban funds, implemented by companies from both countries.
Its dealers and users will have a special customs treatment as well as monetary and banking regimes favoring tax, insurance, among others.
At this moment the heads of State tour the new facilities, where operators are showing them how everything works.