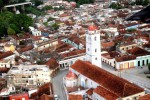 The first quadrant of the scale model showing a miniature reproduction of Sancti Spiritus, will be ready next June 4th, on occasion of the 500th foundation anniversary celebration.
Roberto Vitlloch, director of the Office of Monuments and Historic Sites told Escambray that the second part of the scale model will be concluded in the remainder of the year, so as to complete the representation of the major historic area of the village, the so-called A zone of local heritage. 
The miniature replication of the village, which can be visited for free during the anniversary festivities, will contain 20 quadrants representing some 107 hectares of the town.
It will be placed at the south corner of the boulevard, and will be part of the future interpretation center of the city.
Once concluded, the interpretation center will offer educational programs for children, tours around the city, post graduate courses, and scientific event, among other interesting activities.