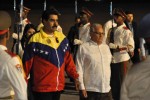 The leaders of several Latin American and Caribbean countries have already arrived in the Cuban capital, Havana, to attend the summit of the Latin American and Caribbean Community of States (CELAC).The President of Venezuela, Nicolas Maduro, arrived in the early hours of Monday to participate in the regional forum, which will take place January 28th to 29th, and will address issues related to economic and political integration and new strategies to fight poverty and boost regional sustainable development.
"We are together, walking a unique path: that of unity, freedom and prosperity," said the Venezuelan Head of State upon his arrival at the Jose Marti International Airport in Havana.
Others heads of state and government who have already arrived in Havana include Uruguayan President José Mujica, Haitian President Michel Joseph Martelly, and Jamaican Prime Minister Portia Simpson Miller, among others.
The CELAC summit will see the bloc's rotating presidency transferred from Cuba to Costa Rica.  CELAC, a regional bloc of 33 countries with roughly 600 million people, was founded in December 2011.
The regional organization, the result of a decade-long push for deeper integration within the Americas, seeks to deepen political, economic, social and cultural integration in Latin America and the Caribbean.