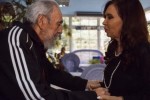 The historic leader of the Cuban Revolution, Fidel Castro, met  Sunday noon in Havana with Argentinean President Cristina Fernández de Kirchner, prior to CELAC's heads of state summit. 
After sharing affectionate greetings, they both talked about regional issues, and about the major problems faced by humankind, particularly. They also referred to food topics, and to the different armed conflicts that threaten peace in the planet.
At a special moment, Fidel and Cristina remembered late Hugo Chavez, and his efforts to consolidate unity in Latin America with the creatin of CELAC in 2011.
(Translated by Escambray)