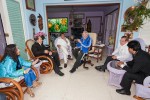 Cuban Revolution leader Fidel Castro met with several Latin American Presidents who attended the 2nd Summit of the Community of Latin American and Caribbean States.
In his home, the Cuban leader shared views with Ecuador's Rafael Correa, Bolivia's Evo Morales and Nicaragua's Daniel Ortega, as well as with Uruguay's Jose Mujica and Mexico's Enrique Peña Nieto in different meetings.
A major point during the conversations was the need to lower extreme poverty, hunger, illiteracy and inequality in the nations of this region, which are considered goals that can be reached with the implementation of economic and social development programs.
The visiting leaders expressed their gratefulness for the hospitality, organization of the summit and its results, as well as for Cuba's permanent support.
The need for peace, the wellbeing of the people and the survival of humanity was at the center of a conversation with Uruguay's Jose Mujica, who visited Fidel on Thursday afternoon.
Later the Revolution leader also met with Mexico's Enrique Peña Nieto particularly on international issues, such as the need to reach nuclear disarmament and to consolidate Latin America and the Caribbean as a Zone of Peace.
The historic friendly ties between Cuba and Mexico were also at the center of the conversation between the Mexican President and the Cuban leader.