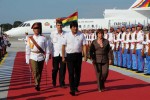 CELAC is an integration for the liberation of Latin America and the Caribbean, said Bolivian President Evo Morales upon arrival in Cuba this Sunday.
At 15:20, local time, Morales got in Jose Marti Internatinal Airport, where he was welcomed by Cuban Minister of Finances and Pices Lina Pedraza.
"Being in Cuba is always a great inspiration of the anti-imperialist struggle", said the Bolivian head of state after sending greetings to Fidel, Raul, and the Cuban people.
"Very happy to be here, in the country of Jose Marti, our great liberator", added Morales, who will take part in the II Summit of CELAC, next January 28-29.
The mandatary was confident when saying that the meeting will allow fostering more social policies, aimed at the liberation of our peoples.
(Translated by Escambray)