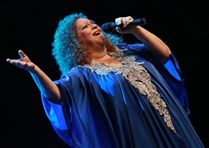 Renowned Dominican singer Sonia Silvestre died Saturday at the age of 61, a few days after being admitted to hospital Plaza de la Salud in critical conditions due to a massive stroke and two heart attacks.
The information was given by her husband Jose Betancourt, father of her children Andres and Heloise Estela Betancourt Silvestre.
"We have to announce the sad demise of our Sonia Silvestre," Betancourt said through a statement issued today.
(Taken from dominicantoday.com)