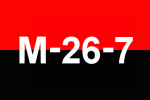 The western Cuban province of Artemisa has been selected as main venue for the July 26th celebrations this year, in acknowledgment of local efforts and results in different economic fields.
Every year, Cubans mark the anniversary of the 1953 attack on the Moncada and Carlos Manuel de Cespedes Garrisons by a group of revolutionaries led by Fidel Castro. The date was declared National Rebellion Day to recall the armed action against the bloody Fulgencio Batista dictatorship. The venue is a province selected according to its economic and social results during the previous year.
Speaking at the Liberty Park in Artemisa, the first secretary of the Communist Party in the province, Carlos Manuel Collazo, called on the workers and people in general to reinforce everyday efforts to meet all commitments.
"We dedicate this acknowledgement to the children of Artemisa, who gave their lives during the July 1953 events and to Commander-in-Chief Fidel Castro for having inspired us and educated us in unyielding principles," said political leader Rolando Fregio, during the meeting to announce the venue.
Some 40 young people from Artemisa joined the armed actions in 1953 when they were only about 25 years old, seventeen of them were killed in action.
A local program to mark the date includes the finishing of social works, such as new hospital wards, a boulevard in the central part of the city, repairs of thoroughfares and street lighting systems and the ongoing works at the Mariel Special Development Zone, which is located in the western province.