Cuba achieved its second victory in the baseball tournament of Veracruz 2014 Central American and Caribbean Games by beating Mexico 10-1 to secure a spot in the semifinals.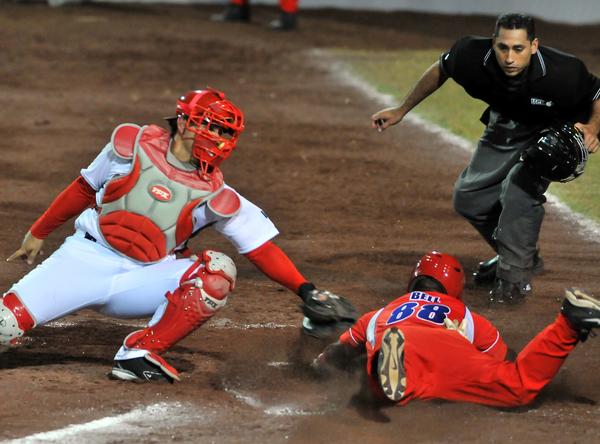 The ace pitcher Freddy Asiel Alvarez won the match when allowing only three hits and one earned run in five innings, and was supported by solid reliefs by Vladimir Gutierrez, Yaisel Sierra and Hector Manuel Mendoza, while Jesus Rodriguez took the loss.
Victor Mesa's pupils batted 17 hits, with special highlight by second baseman Yulieski Gourriel, who hit 3 for 6 with five RBIs, as well as the outfielder Alfredo Despaigne, 3 for 4 with a homer and three RBIs.
The shortstop Dainer Moreira also shone offensively by hitting 4 for 4 with three runs, while outfielder Alexei Bell hit 2 for 3 with one RBI and a run scored in the game.
In Monday's other results, Nicaragua beat Panama 7-5, and the defending champion the Dominican Republic knocked out 12-2 Venezuela.
Cuba now leads Group A with perfect performance of two wins and no losses, and will try to defeat today the weak squad of Guatemala (0-2) to secure the first seat of the poole, while Mexico (1-1) and Puerto Rico (1-1) will fight for the other ticket to semifinals.
In Group B, the already eliminated side of Panama (0-2) will rival Venezuelans (1-1) who need to win to force a three-way tie at the top with the Dominican Republic and Nicaragua, both with positive balance of 2-1.
The top two teams from each group will qualify to semifinals on the coming Thursday, and the winners of those matches will play for the title a day later, in the colophon of a discipline that is based at Beto Avila stadium, in Veracruz.