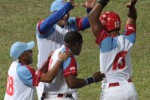 Ciego de Avila is the leader of the 54th Cuban Baseball National Series (54 SNB in Spanish) with a 9-3 record.
After 12 games, the Tigers from the Cuban central province of Ciego de Avila top the standings of the 54 SNB after recovering from the two initial defeats vs. Sancti Spiritus.
Roger Machado's team, as visitor, has swept Camaguey (4×3, 4×3 and 7×4) and lost the match against Sancti Spiritus 1-2 (6×5, 1×2, and 3×8). As home club, they have beaten Holguin (2×0, 4×3 and 2×1) and Matanzas (6×4, 3×2, and 3-9).
The group of the best eight squads is completed with Industriales (8-4), Artemisa, Las Tunas, Matanzas and Villa Clara (7-5), Granma (5-4) and Sancti Spíritus (6-5), while Guantanamo, La Isla and Santiago de Cuba (6-6) play for a 500 average.
Far behind in the standings are Cienfuegos and Holguin (5-7), Pinar del Rio (4-6), Camaguey (3-9) and Mayabeque (2-10), though is too soon to confirm they do not have options at all.
The best teams in the offensive area are: Matanzas (325), Villa Clara (309) and Sancti Spiritus (304); the pitching is led by Industriales (2.08 ERA), Pinar del Rio (2.43) and Artemisa (2.76) while the defense has in Villa Clara (994), Ciego de Avila (987) and Sancti Spiritus (982) the best squads.
New subseries (the second teams play as locals)
Isla de la Juventud-Matanzas
Las Tunas-Pinar del Rio*
Villa Clara-Artemisa*
Holguin-Sancti Spiritus*
Cienfuegos-Ciego de Avila
Industriales-Granma*
Camaguey-Santiago de Cuba
Mayabeque-Guantanamo
(*the best subseries)