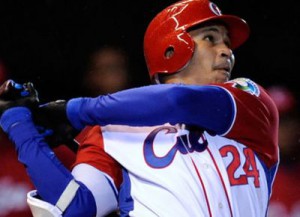 The Cuban outfielder signed a contract with the Yomiuri Giants, from May to November.
At home, in Sancti Spiritus, Frederich Cepeda Cruz readies for departing, shortly, to Japan, where he will wear the professional uniform as the first active Cuban player to participate in the Nippon Baseball (NPB).
With the same patience he uses to discriminate throws, Cepeda tries to decipher the intricate signs of that Asian language.
With the help of images, the athlete seems to notice the most important: the Tokyo Dome, his new home; park where his to-be teammates, the Yomiuri Giants, a squad with 33 titles in the Central League, and 22 at a national level, is to Japan, what the New York Yankees are to MLB, and Industriales to Cuba.
However, the star player is concerned about other things.
The first: to keep in optimal shape because the season already started in February, though it is scheduled to finish on November 30th, date when the contract is set to end.
Cepeda's performance vs. Japanese teams in past international events, certainly was one of the strongest reasons of the director general Atsuhi Harasawa to formalize the transaction.
"My understanding is that during the games of the second phase in our National Series, representatives of the Giants were scouting over here. They brought references from the World Baseball Classics (WBC), and other events involving team Cuba. They came to experiment on these new contracts in the island.
"How do this happened? In the second phase I ended up as Artemisa's DH. With classification out of reach, the manager talked to me so I could be of better use while only batting. He wanted to prove in the outfield one of his own boys. Then the Japanese asked me to come to Sancti Spiritus to perform some trials. It seemed like them wanting to see me through their eyes; the tests were easy, just some defense plays, throwing at bases… They did not went for my offensive stats, as they knew them.
And sure they were aware. In 17 Cuban Baseball Series, Cepeda sums up 5194 at bat, averaging 329, with 1708 hits, 1091 runs, 1000 RBIs, 335 doubles, 53 triples and 260 homers, SLU of 564, and 1393 walks among his best numbers. Internationally, it is known that he is the most consistent Cuban player of the last decade. To meet the Nippon requirements, he added his ambidextrous condition, supported also by stats:  64 home runs at right-handed position, and 196 at left.
You train daily, in competition or not.  Do you consider this may help your acclimatization?
The Series ended and I'm training, as usual, now with some indications they gave me to face the preparation. They are used to running more than we do here in Cuba, so I'm working that way; this is a radical change, not only in the sport side but in my life. I need to get accustomed to another kind of game. I'm gonna be a rookie in a different baseball, even if I'm 34.
How well do you know Nippon baseball?
I've heard about it. The team where I go plays 162 games, as you can see, it almost doubles our season, so the training has to be better due to the intensity.
Does it worry you?
Initially, I have a lot of expectations, doubts, questions, because I need to acclimatize and overcome my obstacles, as always. In Cuba, after 90 confrontations I'd be recovering, but in Japan you have to go on, thus, I'll need to get used to the schedule and training system. As they explained, I'll begin playing in AAA, and when they decide it I'll be moved to NPB. I think that if others have made it, why it is going to be different for me; I hope to stay healthy so I can play.
Of all Cuban batters in recent history, you are one of the best when it comes to deciphering Japanese pitching…
I've always said those have been short events. However, through years, I've accumulated several matches vs. the Japanese and that can give you clues on how they throw, but it is not the same to play 10 or 15 games, than facing a whole league-schedule. It takes you to adjusting yourself, and put into practice all you've learned, while being open to incorporate new things.
Any special secret to connect easily Nippon hurlers?

There's no secret. You just need to be well prepared and focus and each moment. I've had my bad situations also.
When do you leave?
I'm readying my documents. My trip will be for May, and I'd return by November. I hope to be in the next National Series.
How do you embrace this?
It's an honor to be the first of this epoch to get a contract with the Asian professional baseball. Omar Linares preceded me. That's why I thank the Cuban Baseball Federation, the INDER (Institute of Sport, Physical Education, and Recreation) and the government for the opportunity given to national athletes to continue developing our baseball in different leagues. I consider this as an achievement of the Revolution, and I'm deeply grateful for the confidence.
The main thing that we need to pay attention to is that a path has been opened for sport people to develop; this foreign stimulation will make all of them to work harder, as well as the one being held here in Cuba.
We should not be looking at this only from the point of view of a contract improving your way of life, but also from the perspective of growing as an athlete.
Related articles across the web