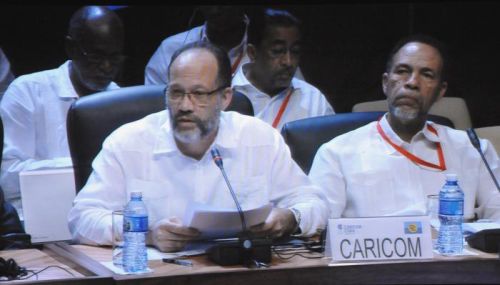 Irwin LaRocque, secretary general of the Caribbean Community, highlighted the generous support of Cuba to the nations of this region, speaking at the Fifth Caricom-Cuba Summit, which began today at the Palace the Revolution in Havana.
A native of the Commonwealth of Dominica, LaRocque praised the contribution of Cuba in the areas of health, education, culture and sports, as well as the training of human resources for the prevention and combating of Ebola virus.
He stated that this meeting will serve to elevate and expand cooperation among Caribbean nations, and highlighted the fact that all countries within CARICOM have a diplomatic mission in Havana.
This Summit is testimony to the solidarity and fraternal relations among the Caribbean peoples, LaRocque stressed, adding this path of integration began 42 years ago when four countries that had recently achieved independence established diplomatic relations with Cuba.
In the context of his speech, he ratified the support of the Caribbean bloc against the economic, commercial and financial blockade imposed by the United States to Havana for over half a century.