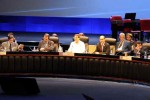 Bruno Rodríguez Parrilla, minister for Foreign Affairs of Cuba, officially opened today in this capital, the meeting of foreign ministers of the Community of Latin American and Caribbean States (CELAC).
At the PABEXPO fairgrounds, west of Havana, Rodriguez reiterated his confidence in the success of the meeting of the foreign ministers of the bloc and also the II Summit to be held on January 28 and 29 at the same venue.
The Final Declaration of Havana, the Plan of Action of the integration entity for the current 2014 and at least thirty special statements covering a broad spectrum of concerns of the 33 nations in the region, will focus the interest of diplomats on Monday and occupy the attention of heads of state or government from tomorrow.
In addition to the important content of the texts under discussion, special interest will be at the moment Cuba officially passes the presidency pro tempore of the bloc to Costa Rica, in the final session of the Second Summit of CELAC.