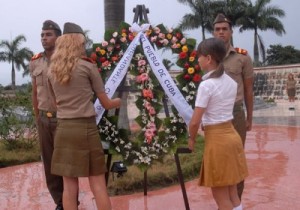 Yaguajay paid tribute to Camilo Cienfuegos on the 54th anniversary of his death.
Students from Sancti Spiritus Military School Camilo Cienfuegos mount this October 28 an honor guard at the Mausoleum of Las Villas North Front, in the northern municipality of Yaguajay to pay tribute to Commander Camilo Cienfuegos on the 54th anniversary of his death.
Since dawn outstanding students of that center participate in the traditional military ceremony, as part of the popular homage to the expeditionary of the Granma yacht, and chief of the Army Column Antonio Maceo, which arrived to the center of Cuba in October 1958 to boost the revolutionary struggle.
During the day, Yaguajay residents will march in pilgrimage to the Historic Complex, placed in front of the former headquarters of the Batista dictatorship, to lay flowers in tribute to the guerrilla leader who liberated the town on December 31st, 1958.
The Mausoleum, opened on October 28th, 2009, holds the remains of the 44 fighters of the Antonio Maceo Column and other rebel forces operating in northern Las Villas, who died during the revolutionary struggle, or afterwards .
The facility is part of a historic monument erected in 1989, that highlights the Museum Square and the Statue of Camilo.
Translated by ESCAMBRAY