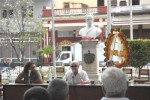 The 15th Voces de la República Colloquium was brought to a close in the Cuban village of Sancti Spiritus, which hosted the event since May 14th.
"This is the only Cuban continuous forum where experts meet to discuss neo-colonial history", told Escambray Juan Eduardo Bernal Echemendía, president of the local Jose Marti Socio Cultural Society subsidiary, and major promoter of the meeting.
The opening panel was dedicated to the sixtieth anniversary of the homage paid to Jose Marti in 1953, with lectures by intellectuals Mario Mencía, Carlos Marchante, and Ricardo Vázquez.
Colloquium activities were also carried out in the local University of Pedagogical Sciences, Ernesto Lecuona School of Music, as well as in the municipalities of Cabaiguan, Jatibonico, and Taguasco.