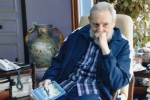 Fidel Castro and Venezuelan TV host Miguel Angel Perez Pirela met in Havana.
New photos of the leader of the Cuban Revolution Fidel Castro were released Tuesday by Venezuelan political analyst and TV host, Miguel Angel Perez Pirela.
Castro and Pirela held a 4-hour-long meeting on March 31st, in which they discussed several topics such as contemporary history and current world issues.
Perez said Fidel Castro looked vigorous, healthy and lucid, handling countless numbers and measurements, names and situations that left him speechless.
[nggallery id=63]