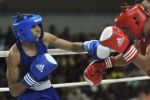 With more than enough merits the presence in the 49 kilos of Yosbani Veitia Soto was confirmed . The 52 kg, young Dariesky Palmero, was also called.
One holding tight, and another fighting to rise. That is the keynote of Sancti Spiritus representation in the national boxing preselection preparing for the main international commitments of 2013.
Veitia, participant in the 2012 London Olympic Games, and winner of several medals in international contests, reaffirmed as the best exponent in his division at a national level.
Among his most important accomplishments are the subtitle in the Guadalajara Pan American Games in 2011, and the bronze in the World Junior Boxing Championship as well as several medals in Pan American and European tournaments.
By the end of 2012, Veitia confirmed he is the owner of the 49 kg division by conquering the national tourney Playa Giron, the same event that took him to the national preselection in 201o when he got the silver medal.
With only 17 years, young Dariesky Palmero was called to 52 kg of the squad, thanks to his title in the recently held Playa Giron Boxing Tournament.
The main expectations are to participate in the coming Pan American Championship, to take place on August in Chile, and in the World Championship on October in Kazajstan.
With more than enough merits presence was confirmed in the 49 kilos of Yosbani Veitía Soto, participant in the 2012 London Olympics and several medals in major international events
Among the most important is its subtitle in the Pan American Games in Guadalajara Mexico in 2011 and the bronze medal in the Junior World and several medals in Pan American events and European tournaments
Late last year Veitía was ratified as the best man to get the division title in the national tournament Playa Girón. Just this tournament, but in 2010 gave him access to the national pre when released in the pugilistic mundio with a silver medal.
At just 17 years young Dariesky Palmero was drafted in the 52 kilos division, achieved thanks to the title in the recently concluded Playa Girón.
The primary aim is to participate in the Pan American Championships to be held in Chile in August this year and the World Championships in October in Almaty, Kazakhstan.
Before Cuban boxers are expected to attend the traditional European tour.