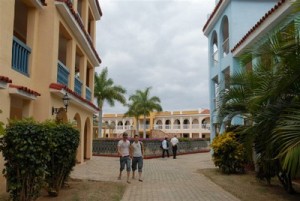 The resorts found at Trinidad-Sancti Spiritus tourist destination have joined the initiatives launched in Trinidad, to celebrate the half-millennium of its foundation.
Thus, many of them have been granted the 500th anniversary of the city recognition.
The idea encourages the involvement of tourism workers in the actions aimed at improving the comfort of the hotels, and the efficiency of their work, which seek the satisfaction of the customers.
Grand Hotel Iberostar Trinidad, Las Cuevas Hotel and Ancon peninsula-based hotel complex welcomed the undertaking, which also serves to tell foreign visitors about the village's attractive patrimonial and cultural values.
On the other hand, special offers are available for customers concerning tickets and accommodation discounts, as well as trips from the beach hotels to the city to attend the artistic shows.
A culinary art festival has been scheduled for these days, where the best of the regional and local kitchen can be enjoyed.
(Taken from Radio Trinidad, and translated by Escambray)