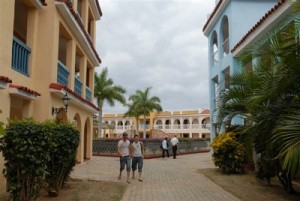 Repair and renovation works are currently being carried out at Trinidad's Ancon and Brisas Trinidad del Mar hotels, that will improve the comfort of the rooms, and quality of the services.
By Ana Marta Panadés
According to Hector Zerquera, director of the local Ancon peninsula hotel enterprise, the agreed work strategy allows that repairs are made during the months of least inflow of tourists.
Some 73 rooms were scheduled for restoration in Brisas Trinidad del Mar hotel, while several others are already under repair in Ancon. Nearby facilities has been also taken into consideration like Costa Sur hotel.
The most important tourist destination of the province of Sancti Spiritus reported a profitable summer season, with positive economic figures, and an opportune commercialization strategy.