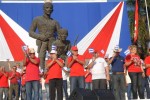 After the remarks made by Domingo Gutierrez Gutierrez, general secretary of the CTC in Sancti Spiritus, the 17 unions in the territory toured the main streets in one of the busiest marches ever.
Thousands of people in Sancti Spiritus reaffirmed its unconditional support to the Revolution in the two hours parade through the Serafin Sanchez Valdivia Revolution Square to celebrate the 123rd anniversary of the International Workers Day and the 74th of the Federation of Cuban Workers (CTC).
The parade was led by the Union of the Education Workers, who were worthy of such recognition for the positive results in the year and for the history of the sector in Cuba, mainly after the triumph of the Revolution.
Cuban and Venezuelan flags accompanied the march to reaffirm once again the support to the Cuban revolutionary process and its leaders, as well as to the sister nation of Venezuela and our close friend Commander Hugo Rafael Chavez Frias.
The celebration of Sancti Spiritus unions ended with the farming sector and its usual march of horses, in which peasants manifested  their will to continue working to ensure people's food.
The closing of the celebrations was colored by a sea of ​​Cuban flags carried by young people of the Yayabo village and the singing of the Internationale.
This historical parade was presided over by Abelardo Alvarez Gil, member of the Secretariat of the Central Committee of the Cuban Communist Party (PCC), Jose Ramon Monteagudo Ruiz, first secretary of the Party in Sancti Spiritus, Carlos Rafael Miranda Martínez, member of the State Council and National Coordinator of the Committees for the Defense of the Revolution, among other party leaders, the government and the mass organizations of the territory.
As in the provincial capital, simultaneous marches to demand an end to the blockade on Cuba and the freedom of our Five Heroes unjustly imprisoned in U.S. jails were held in the rest of the municipalities.
[nggallery id=69]